Disclaimer: This is not intended as investment advice in any form.
Are you looking for reliable sources to keep up with the latest news in the cryptocurrency world? Your quest ends here!
In the volatile cryptocurrency world, accurate and current market analysis news is essential.
The crypto industry moves quickly, making it hard to find reliable sources.
Crypto influencers often share information without verifying it, emphasizing the need for caution.
Not everyone agrees on the "best" crypto news websites, but some are well-regarded.
We selected the best cryptocurrency news sites and mainstream publications with in-depth coverage.
Why Check Crypto News Sources?
Follow your favorite cryptocurrencies on crypto from the best crypto news sources to stay updated. This way, you can discover new projects to engage with or manage your risk exposure.
Stay safe with your digital assets by reading trustworthy crypto news websites.
Concerns about security have been raised in the cryptocurrency industry. Possible frauds include pump-and-dump schemes, hacking, and business failure.
Being aware of these issues early on can enhance the security of your coins and tokens.
Even if you don't own any cryptocurrency yet, exploring the top crypto news websites can be beneficial. Technology buffs might enjoy reading news about Web3 and blockchain on cryptocurrency sites.
The articles on many crypto news sites make learning about crypto safe and easy.
Crypto news articles are a safe way to learn about this emerging industry.
If you are on the fence about crypto but want to learn more, there are plenty of news outlets to choose from.
You can learn about the different parts of the crypto ecosystem on news websites, and then decide if, when, and how you want to get involved.
What Are the Best Crypto News Websites?
Different people may have different ideas about which crypto news sites are "best." Yet, these are some that are known for reporting mostly fair news (as of now).
You might wonder what makes a crypto news site "good." Well, it's about how they present information without strong biases.
This could shift, but for now, these sources are seen as reasonably reliable.
1. CoinDesk
As a major media player, CoinDesk covers a broad spectrum of content. This includes timely news, in-depth market analyses, insights from industry experts, and more.
CoinDesk has been sharing cryptocurrency news since 2013. It attracts around 13 million readers each month.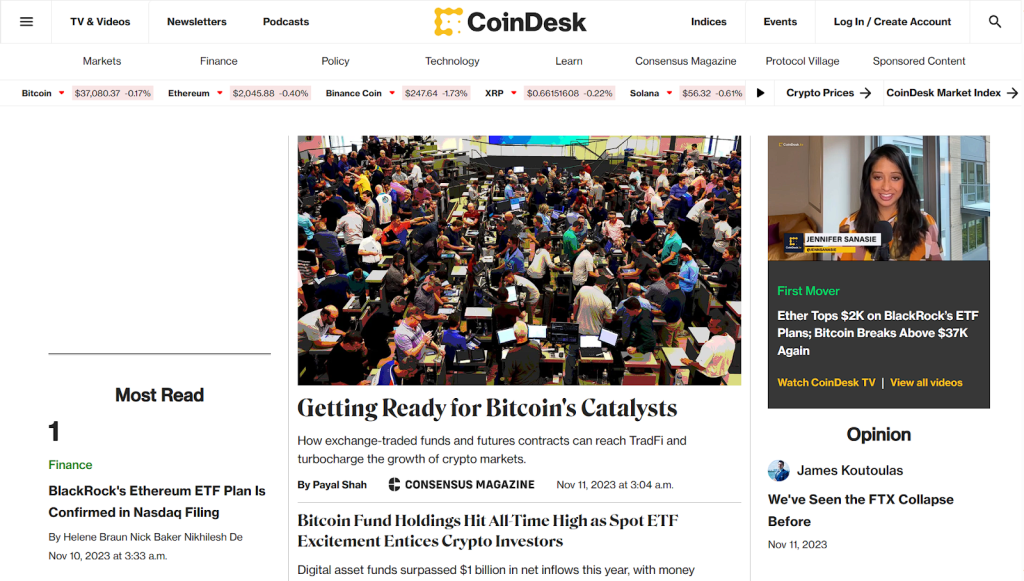 Due to its long history and large user base, CoinDesk is a trusted cryptocurrency news source.
If you enjoy podcasts, CoinDesk releases insightful episodes. It also covers daily market trends, Ethereum updates, and programs like "Money Reimagined."
For visual learners, CoinDesk.TV offers daily video updates. It summarizes the latest news and relevant stories.
Stay in the loop with their daily crypto news overview through "The Node" newsletter.
Additionally, CoinDesk is known for organizing the yearly Consensus Event. It's a widely attended blockchain festival.
CoinDesk doesn't just produce its original research. It also features key crypto research firms in the industry through its dedicated hub. This allows you to access a wealth of valuable insights in one place.
2. CoinGape
Since its founding, CoinGape has been run by enthusiastic cryptocurrency users.
CoinGape has more than just news.
Interesting articles and interviews are accompanied by pricing and market trends analyses.
As people learn their value, cryptocurrencies are gaining popularity.
To satisfy this interest, Coingape offers publications written by blockchain and cryptocurrency experts.
You can read in-depth reviews of different crypto projects. You can find out how the market works. Or how prices change, and even read interviews with leading crypto figures.
3. CryptoBites
Want to know more about cryptocurrencies, blockchain technology, and the future?
The content on CryptoBites, a new website, is ever-expanding and always insightful. It is constantly adding new crypto content on its roster.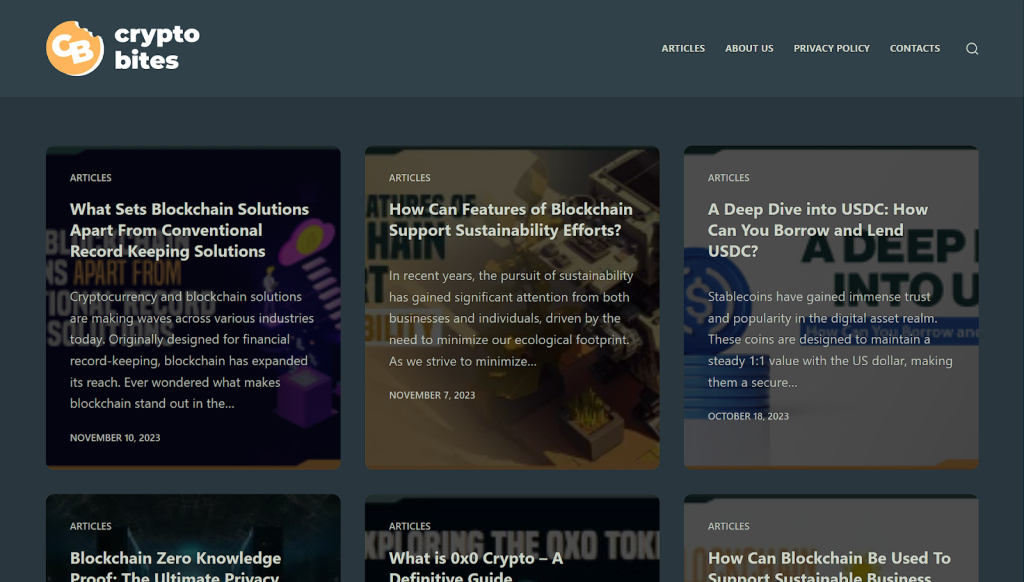 If you're someone who is new to the crypto scene, CryptoBites is the perfect place for you to start.
4. U.Today
U.Today was founded as a global media outlet in 2017. Its headquarters are located in Dubai. Its goal was to draw attention to the importance of emerging technologies.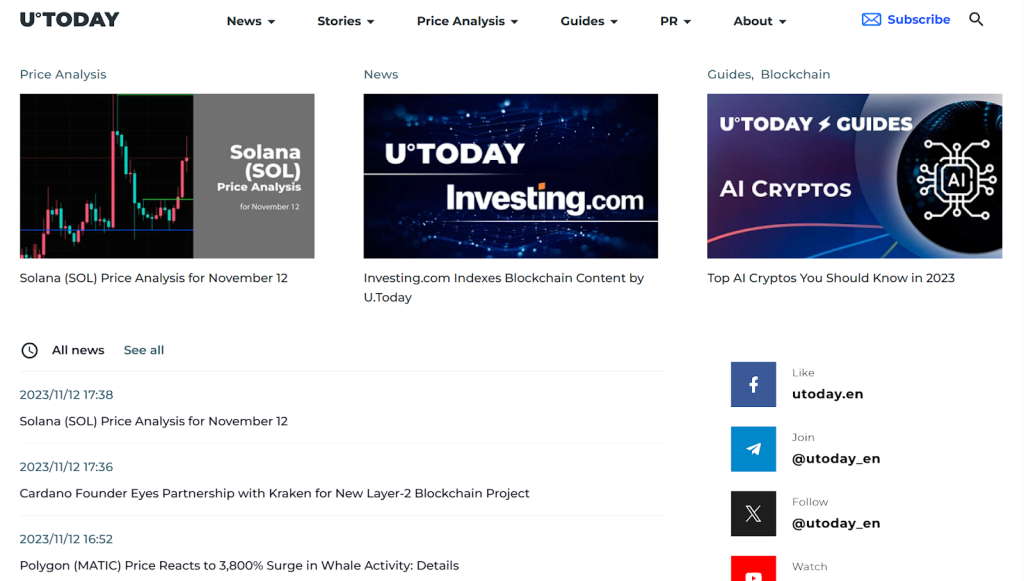 U.Today aims to inform and entertain the growing group of tech enthusiasts.
The platform promotes education, learning, collaboration, and best practices.
5. The Block
The Block is a top-notch source for crypto news and research.
Its data-driven in-depth analyses and comprehensive coverage of cryptocurrencies set it apart.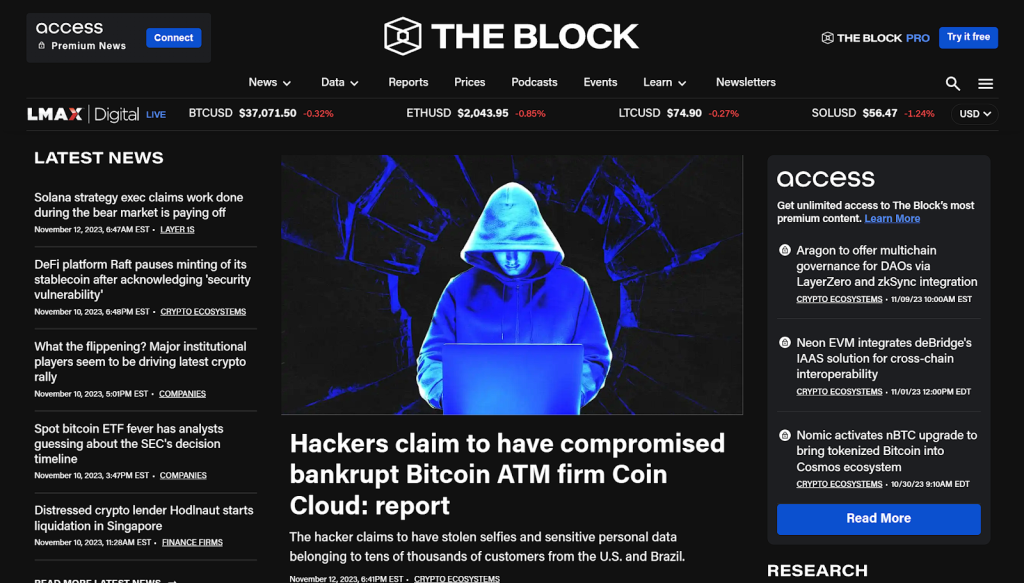 Their writing is backed up by original research and a lot of reports on the industry. This goes above and beyond what most outlets do.
This goes into great depth on a wide range of subjects.
Tokens, Ethereum, central bank digital currencies, decentralized finance, and bitcoin are examples.
Anyone can look at cryptocurrency markets. The Block gives them open data and metrics to back up their research.
Their consistent research and updates on Bitcoin is not all. The Block also hosts a podcast called "the Scoop."
It features conversations with well-known cryptocurrency experts. This podcast is a valuable resource for gaining insights into the latest trends.
6. Cointelegraph
Founded in 2013, Cointelegraph (CT) is a well-established cryptocurrency platform.
It is one of the original players in the crypto media realm. Cointelegraph covers topics in various languages and across different regions.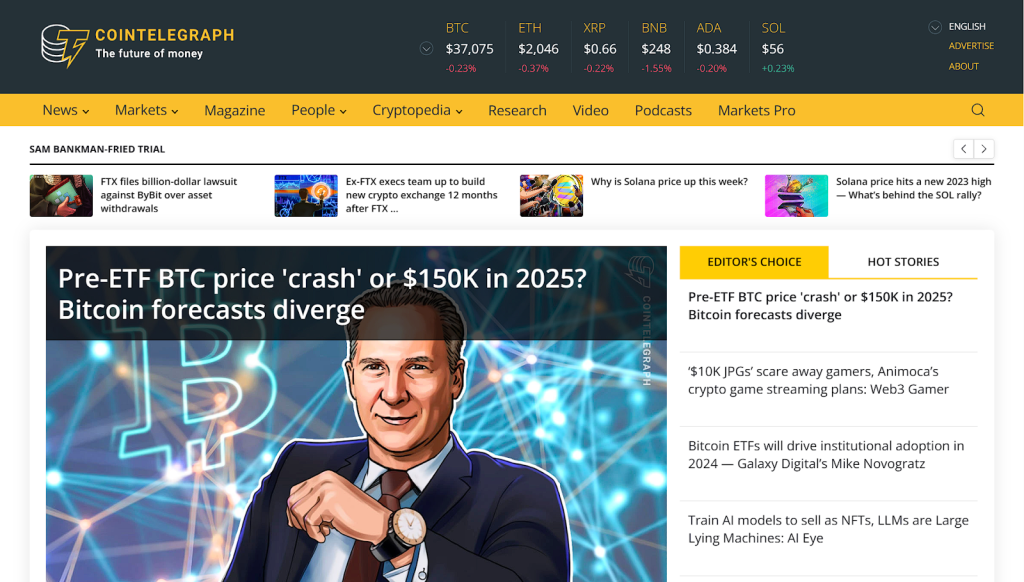 Today, it stands out as a major hub for crypto news. They're consistently publishing articles at a high frequency.
CT provides a diverse range of content. This includes breaking news, opinion pieces, and expert insights.
This covers a broad spectrum of cryptocurrencies, blockchain technology, and fintech developments.
In addition to the latest updates, Cointelegraph dedicates attention to analyzing market trends.
This also includes prices for major cryptocurrencies like Bitcoin and Ethereum. You can explore the features offered by Cointelegraph Magazine. Especially for more in-depth and creatively presented crypto stories.
7. Decrypt
Decrypt is a top-notch crypto news outlet.
This website brings you the latest happenings in the crypto space each day.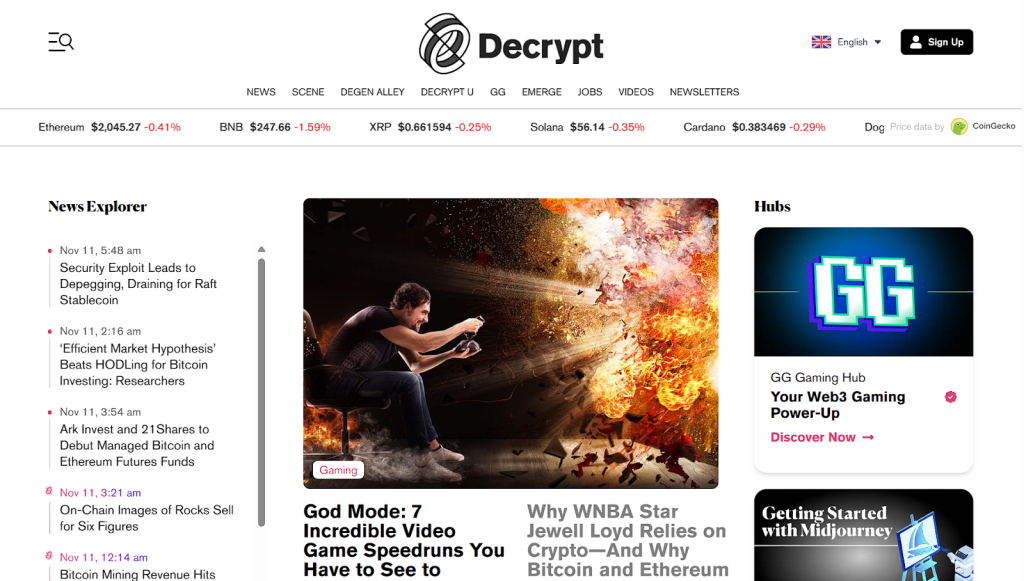 You'll find insightful articles discussing various aspects of crypto, blockchain, and daily topics. These influence market trends, including detailed analyses of cryptocurrency prices.
A notable aspect is Decrypt's commitment to their educational content. They offer in-depth explanations of protocols and products within the crypto space.
Explore a diverse range of topics such as DeFi, Proof-of-Stake, NFTs, and new tokens. These will help enhance your understanding of the crypto landscape.
For instance, dive into articles deciphering the intricacies of decentralized finance (DeFi). Or grasp the concept of Non-Fungible Tokens (NFTs) and their impact on the market.
8. Blockworks
Blockworks delves into various aspects of the crypto world.
It brings you insights on topics like DeFi, the Metaverse, and regulatory developments.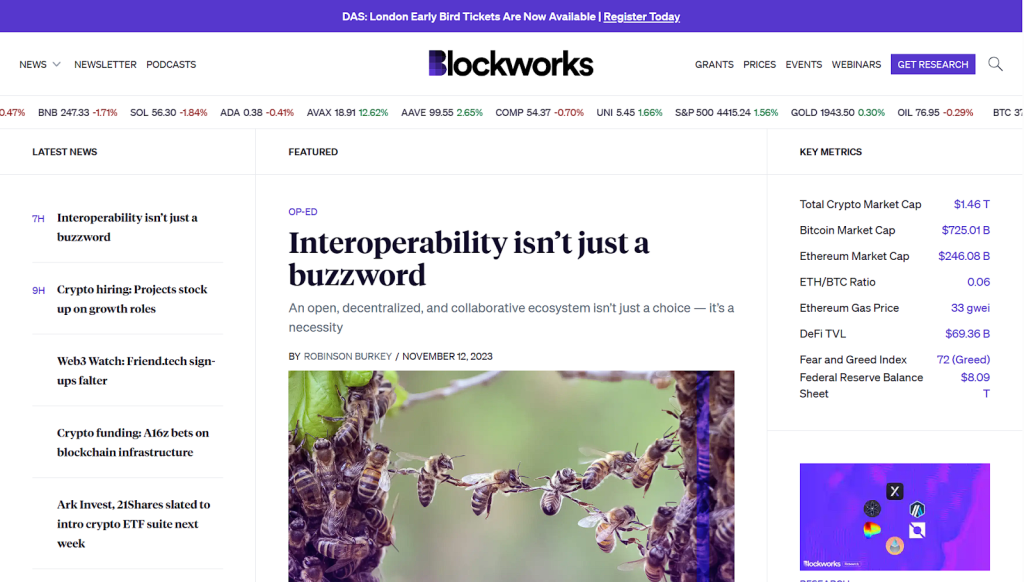 Their coverage extends to asset management, macro markets, financial services, and more. Which provides a comprehensive look at the crypto landscape.
For example, their articles help understand the latest trends in decentralized finance (DeFi).
You can also learn about the emerging concept of the Metaverse. While also staying informed about regulatory changes affecting the crypto space.
9. Bitcoin Magazine
Bitcoin Magazine holds a crucial place in the cryptocurrency narrative.
Founded in 2012, it was one of the earliest and major platforms. It wae dedicated to spreading awareness about Bitcoin. It's interesting to note that Vitalik Buterin co-founded the website. He later became the principal developer of Ethereum.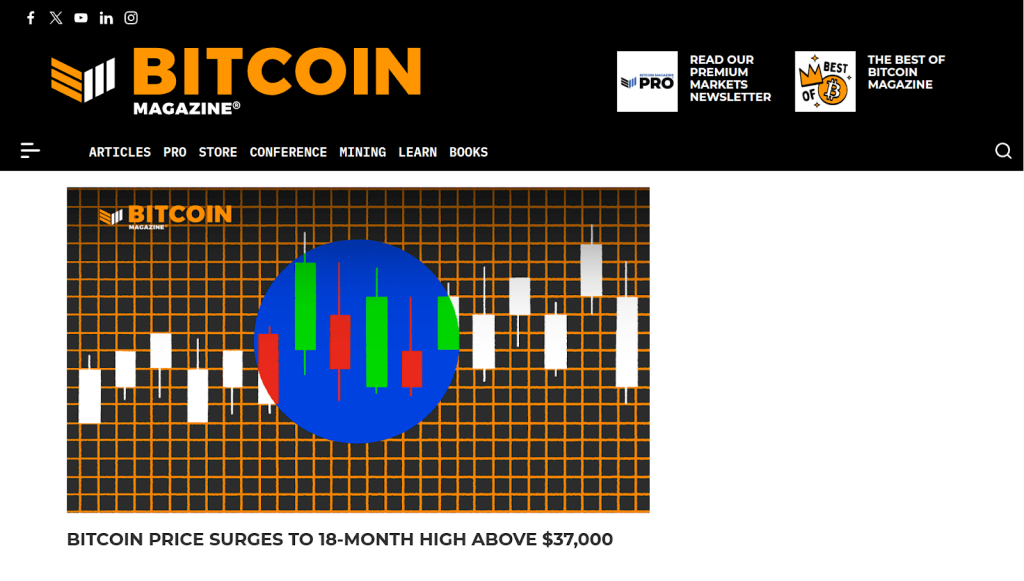 The publication continues to contribute by releasing various crypto news and opinion pieces. Their primary emphasis stays on Bitcoin-related topics.
While it does cover altcoins (non-Bitcoin cryptocurrencies), the overarching focus remains pro-Bitcoin.
If you're new to crypto, Bitcoin Magazine has plenty of educational resources for you. They cover everything from the basics of Bitcoin. Their more advanced topics make it a handy resource for those diving into the crypto world.
10. Bankless
Bankless is an exciting project to explore. Especially if you're looking for alternatives to traditional banking and investments.
They break down the details of moving towards financial decentralization. You can learn more about this in their newsletter and podcast.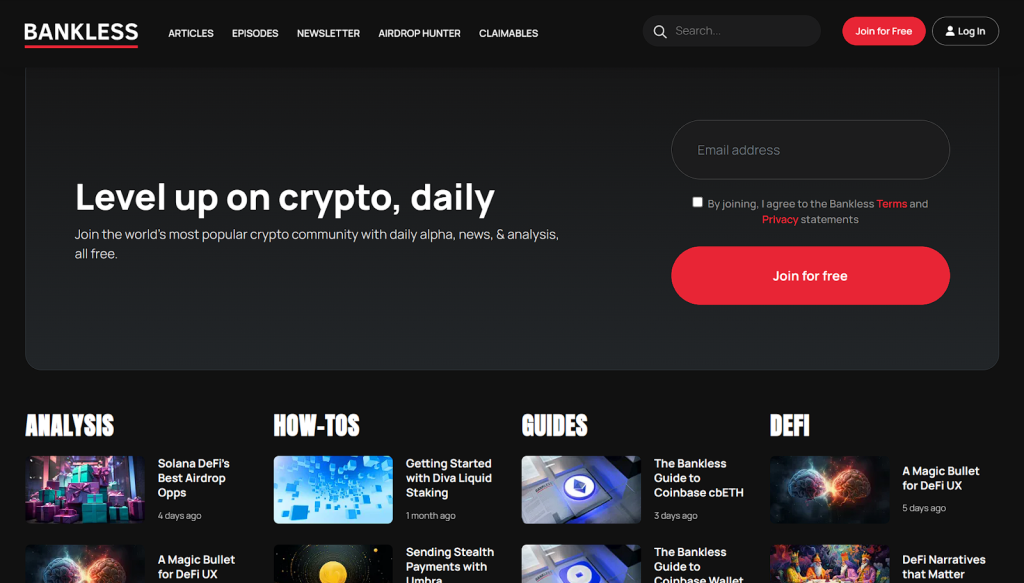 The newsletter mainly talks about what's happening in Decentralized Finance (DeFi). They also discuss the Ethereum space.
Tune into the Bankless podcast for chats with crypto experts. Dive deep into discussions about decentralized finance and Ethereum. It's a great way to stay updated on these topics!
11. Bitcoin.com News
At Bitcoin.com News, you'll find a news section that goes beyond their learning hub. Or trading options for bitcoin for that matter.
At Bitcoin.com, you can access not only Bitcoin news. You can find articles covering various aspects of crypto.
These include topics such as NFTs (non-fungible tokens), Ethereum, and DeFi (decentralized finance).
Additionally, Bitcoin.com provides a range of crypto services and products. Such as a Bitcoin wallet and a decentralized exchange (DEX).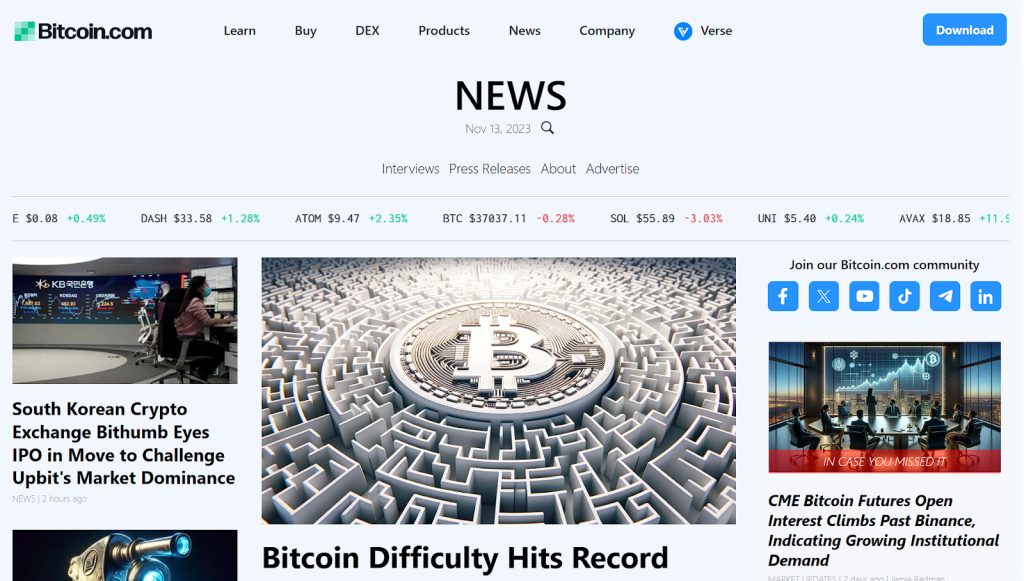 For instance, you can use their wallet to securely store your Bitcoin. You can access their decentralized exchange to trade cryptocurrencies directly from your wallet.
For those who wish to remain up to date on current events, Bitcoin.com is an excellent resource. It's a one-stop platform to keep you in the loop on Bitcoin and other crypto-related news.
12. DeFi Pulse
DeFi Pulse was established in February 2019. It serves as a straightforward resource. It helps you to stay informed about the evolving Web3 industry.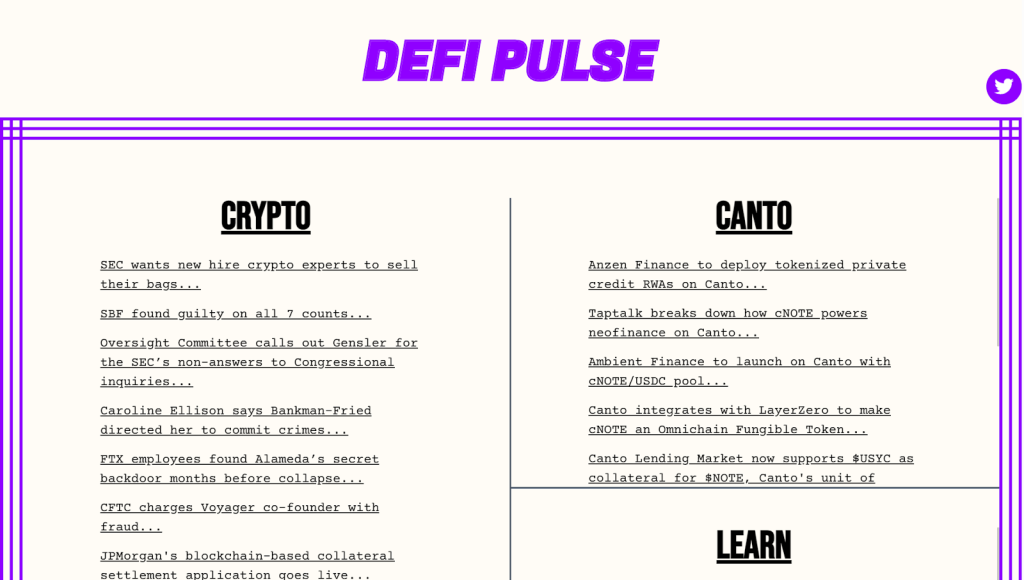 It provides up-to-date analytics and rankings of various decentralized finance (DeFi) protocols.
You can stay updated on the latest developments in the Web3 space by visiting the DeFi Pulse website. Or you can follow its Twitter account.
The website also offers informative articles covering different Web3 concepts. They offer educational content on emerging topics in the decentralized finance sector.
For example, these articles might explain concepts like liquidity pools or yield farming.
13. Crypto Briefing
If you're looking for crypto insights, Crypto Briefing is a key source. They delve into crypto projects and investment prospects through detailed research.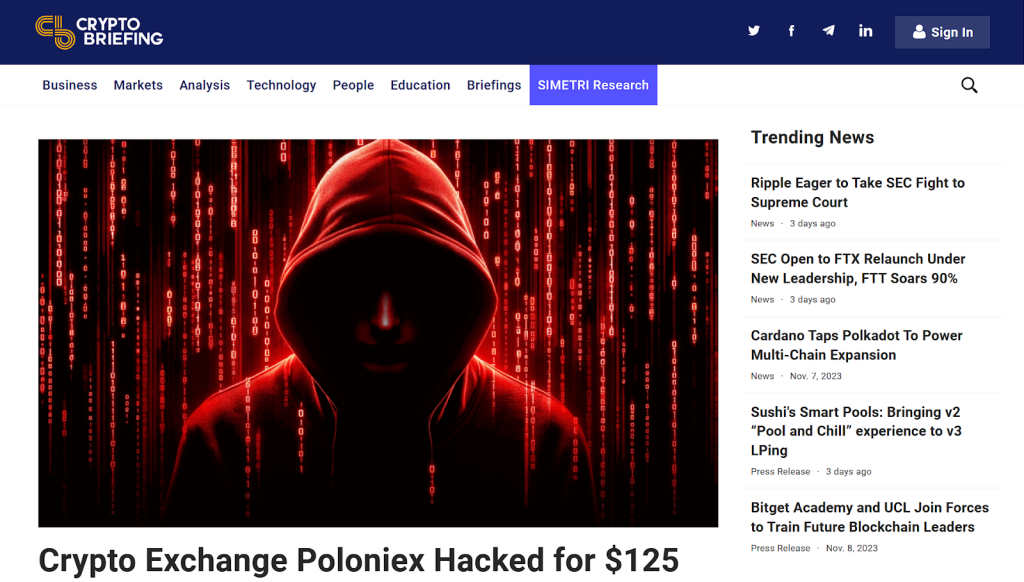 Apart from daily crypto news, Crypto Briefing offers many things.
These include guides, market commentary, briefings, and research reports. They provide a comprehensive understanding of crypto.
For instance, they may provide a guide on how to securely store cryptocurrencies. They can also offer commentary on market trends and behaviors.
This ensures that you stay informed about the crypto space. The research reports could include detailed analyses of specific blockchain projects.
14. The Defiant
The Defiant serves as a prominent information outlet concentrating on Decentralized Finance (DeFi).
The Defiant specializes in in-depth coverage of sectoral progress. They also simplify intricate ideas. Rather than prioritizing immediate updates.
You can also subscribe to their Substack newsletter for complete content access.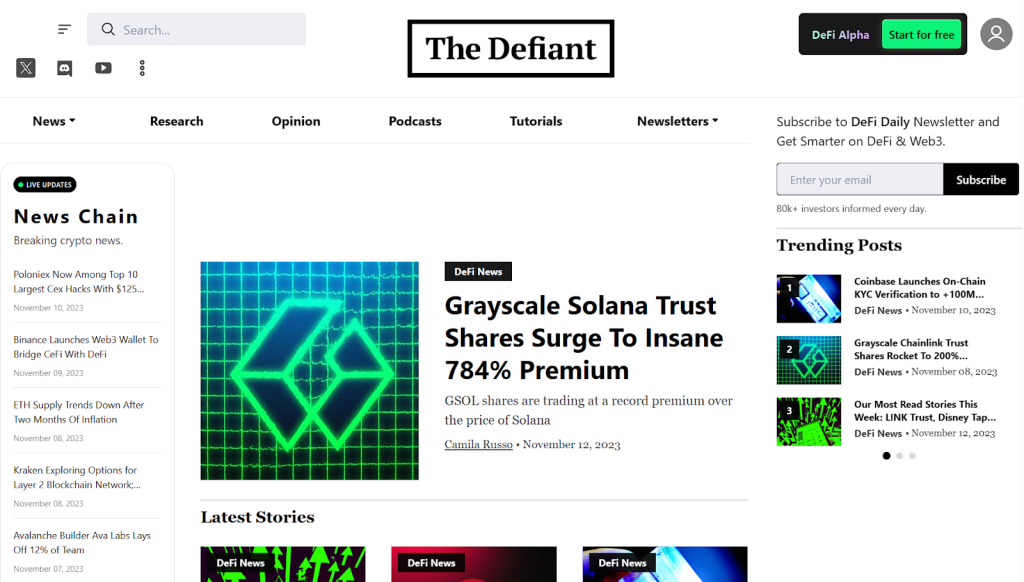 Even with the free version, you can obtain a reasonably thorough summary of significant stories and analyses.
Additionally, The Defiant regularly conducts interviews with cryptocurrency specialists in their podcast. They also produce DeFi-related content on their YouTube channel.
This includes discussions on DeFi protocols like Uniswap and Aave. They offer insights into their functioning and impact within the decentralized finance space.
15. Bitcoinist
Bitcoinist is a prominent platform in the Bitcoin and blockchain space.
You can find a lot of news there every day. They discuss many topics, including prices, news about the market, and rules and laws.
They also have helpful guides on things like "how to" get around in the crypto space.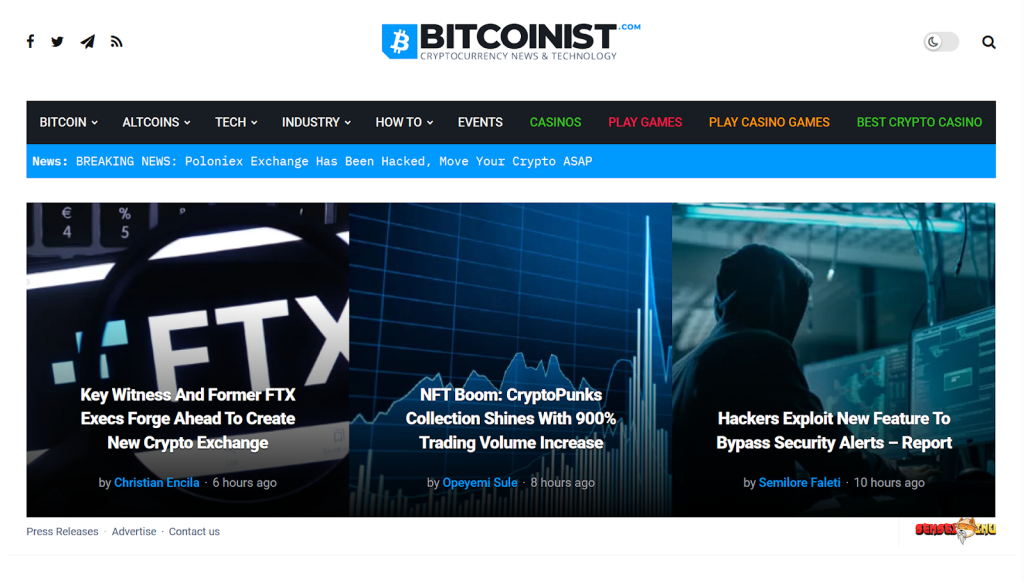 For instance, you might find step-by-step instructions on setting up a cryptocurrency wallet. You can also learn about executing a trade.
16. BeInCrypto
If you want to stay updated on market changes, BeInCrypto is a top choice, providing frequent crypto news.
You'll find educational content, including guides, analyses, and videos, on the platform.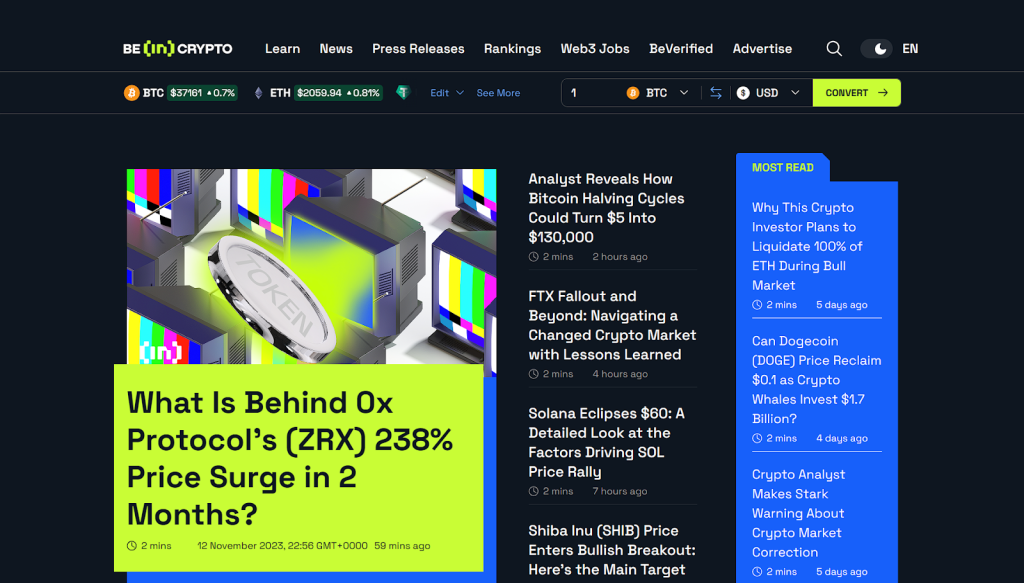 Additionally, BeInCrypto hosts a job listing board, showcasing available positions in the cryptocurrency ecosystem.
This includes job opportunities in areas like blockchain development, crypto analysis, and more.
17. CoinMarketCap
You might not be familiar with Brandon Chez, the founder of CoinMarketCap, as he keeps a low profile.
However, in the crypto space, CoinMarketCap is widely recognized as a go-to platform for tracking coin prices.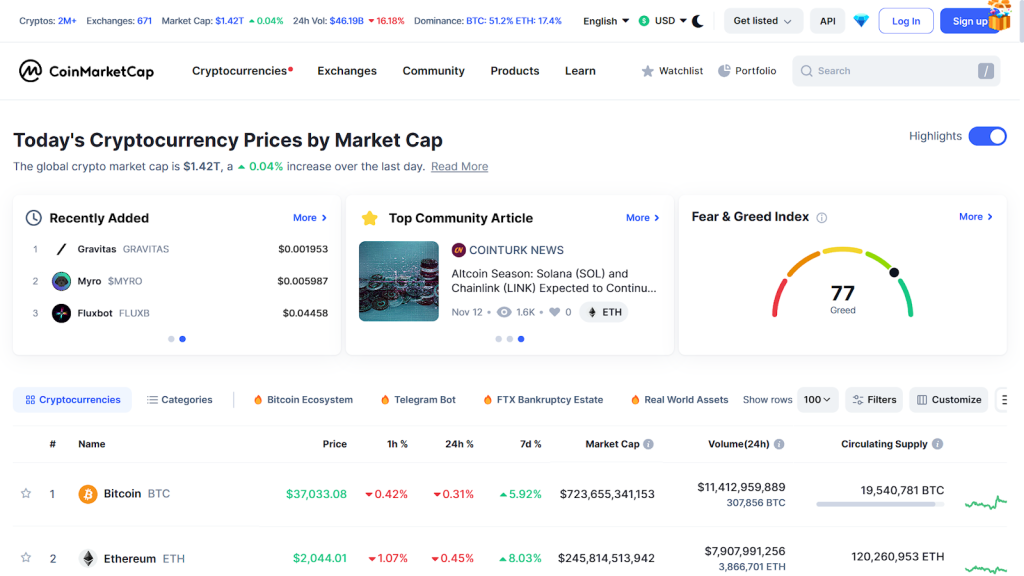 CoinMarketCap was launched in 2013. It draws about 83 million visitors every month. It has become the top site for cryptocurrency price information.
CoinMarketCap not only provides price data but also features a news section that links users to important headlines from trusted sources.
Furthermore, the platform hosts the Alexandria portal, a space containing numerous educational articles about cryptocurrencies.
18. CoinGecko
CoinGecko, a company headquartered in Malaysia, is widely recognized as a frequently visited website that aggregates cryptocurrency prices.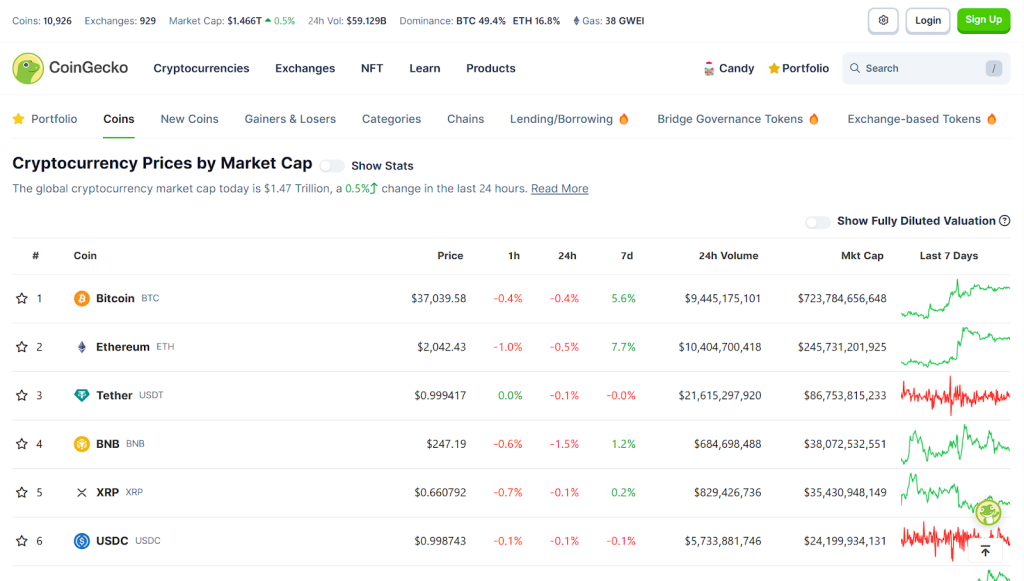 On CoinGecko's site or mobile app, you have access to a variety of cryptocurrency news.
The website doesn't just generate its own news content. CoinGecko directs users to noteworthy stories from other reputable sources. These sources are CoinTelegraph, CoinDesk, and Bitcoin.com.
Final Words
The cryptocurrency scene is evolving, leading to potential speculation and confusion.
Look for a reputable, transparent, and trustworthy source of cryptocurrency information. Follow the suggested news portals to manage your investments in digital assets wisely.
These platforms draw millions of blockchain enthusiasts with their verified updates. Stay informed on the latest Web3 and DeFi developments by following and subscribing to their newsletters.